The Goods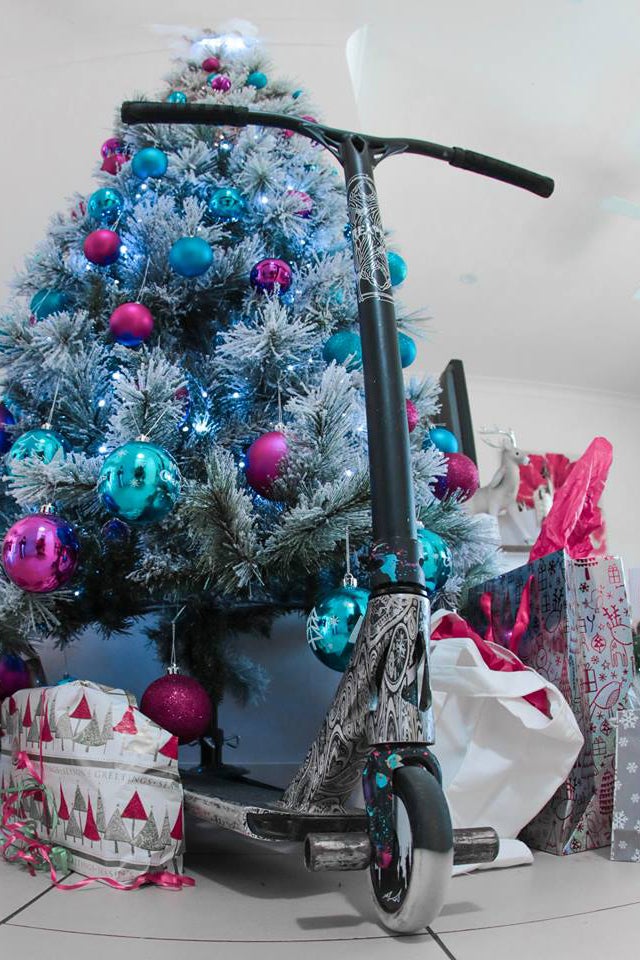 Fav Food:
Pizza & TeeVee Snacks are my go to!
Fav Music:
Depends on the mood, but usually Trap/UK rap when I'm going riding!
Fav Skatepark:
Woodward West, if you've ever been there you'll know why.
Fav Tour Location:
South Africa, but anywhere on tour is a vibe!
Fav Crew to Ride With:
Blunt/Envy Fam, WeScooterSG & my day ones, DSC
What Was Your First Trick You Had Dialed?
Bri Flips, easily did 100 a week hahaha.
Fav Trick Now?
Hurricanes, Hangers & Full Whips!
What Do You Do Besides Ride?
I have a really bad Snowboarding addiction & play Football.
Who Did You Look Up To When You First Started Riding?
Coedie Donovan, He was the best rider in the world at the time & rode one of my local parks!
Why Did You Start Riding Scooters?
I've always been into action sports, but scooters became the go to because all of my friends started riding when we were splitting up to start high school.
Fav Part of The Scooter Scene
The fact that anyone can get into it, It's always surreal to meet different riders from around the world & know that scootering brought us together!
Why Do You Think Kids Should Get Into Riding Scooters?
It's a sport that gives you the freedom to express yourself & is extremely beneficial to both your physical & mental health. It's given me a career path, life long friends & the opportunity to travel to every continent but Antartica!
Do You Listen to Music While You Ride? If So, What Gets You Pumped?
I used to, but these days I like socialising as much as possible when riding & feeding off the energy of the crew around me.
Comps or Filming?
What's Your Riding Philosophy?
I've been around for so long to watch it evolve into what it is now, It's given me so many incredible opportunities in life, so in return I'd like to help keep the sport progressing in the right direction & create a pathway for the next generations to one day make a healthy living from riding.
Explain The Biggest Street Spot/Jump You Ever Hit
I did a 40ft dirt jump on the ATS in the UK a while back, but my ender of my AOSv4 promo is probably the biggest street spot I've done something heavy on.